PLATFORM TO WATCH: THE RISE OF LINKEDIN
LinkedIn introduces Events function: An opportunity to connect physically?
Since November 2018 LinkedIn has been experimenting with an Events function which users familiar with the Facebook Events or Meetup may not find revolutionary. 
However, having this tool introduced to LinkedIn certainly will be an innovative one with a huge potential for members to create marketing opportunities and brand awareness for individuals, small businesses and even b2b campaigns. 
The function is not yet rolled out to all members, but many users have already received invitations to the beta and given optimistic reviews. For those of us who are not yet in the beta, the function will be rolled out in the very near future! Definitely keep an eye out for this update for those planning any upcoming event campaigns or activations! 
Quoi does that say? Translations comes to LinkedIn
As the user base of LinkedIn continues to rise internationally, so does the demand for the platform to become more accessible for a globalized and multilingual audience. That's why you may have recently noticed since November a new feature on your news feed to 'See Translations' which Microsoft has developed to be compatible with over 60+ languages. 
What's interesting to point out is how the translation software is designed to receive user feedback, review and even suggestions through it's "rate the translation" button which pops up after initially using the service. This 'adaptable' translation is an example of how LinkedIn is innovating and tailoring its service for it's B2B, corporate and entrepreneurial user base.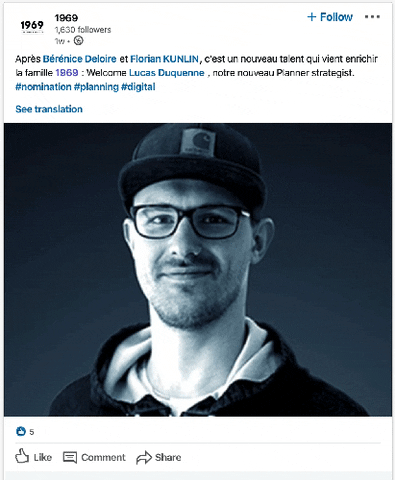 LinkedIn brings it's very own Live feature to the mix
Whilst other major social media platforms such as Facebook, Instagram, Twitter, and SnapChat have been embracing the Live feature for a few years now, it seems finally the entrepreneurial, B2B platform is now getting ready to join the fray. Launched in February of 2019 you need to make an online application to get access to the feature, and once you do you'll find the function and interface very intuitive and reminiscent of Facebook. 
In summary…
With all these updates in 2019, it's easy to see why LinkedIn has been drawing a bigger crowd now as the platform has become more accessible and created more potential for businesses to connect to individuals. Perhaps more so than ever and these recent features also reflect the changing demographics of the global workforce as generation Z is now coming into age, LinkedIn is also innovating to future proof the platform but also linking different generations and audiences together.